Rainbow in the Valley: Papua New Guinea
A New Perspective for American Anthropology
Anthropology is about you, whether you live in a NY apartment or a mountain home in Papua New Guinea. "All beauty is a making one of opposites," stated Eli Siegel, the founder of Aesthetic Realism, "and the making one of opposites is what we are going after in ourselves." When we study this principle and the rich way the cultures of the world show it is true, we respect people more and see ourselves in a thrilling relation of difference and sameness to everyone else!
Aesthetic Realism gives to anthropology the depth, kindness, and scientific accuracy that this young science is hoping for—a statement I make carefully, definitely, and with great hope.


Anthropology Is about You & Everyone
Class Taught by Dr. Arnold Perey
"Nothing human is alien to me." — Terence
6 PM on Alternate Wednesdays
Winter / Spring 2017
At the Aesthetic Realism Foundation in New York City
Even after 6 million years of evolution, we human beings need urgently—more urgently than ever—to learn how to like the way we see people. To do so we study Aesthetic Realism and People by Eli Siegel this semester, with world-wide samples.

January 24 Seeing Oneself in Another: African American Folklore.

February 7 Going for Love, True and False--Africa & NYC

February 21 Evolution, or: "All the Past Is in Us."

March 7 Seeing a Person From Within: Central Australia

We will criticize the falsification in Freud's Totem and Taboo and demonstrate how true for the human self is this principle by Eli Siegel: "The deepest desire of every person is to like the world on an honest or accurate basis."


Australian Aboriginal ceremonial: a central thing Freud distorted the truth about.

Saturday March 17 [ Not Wednesday Mar. 21] What Is Precious?

We meet at the Met Museum 11AM with the Visual Arts and the Opposites class—to study the Golden Kingdoms exhibition.

April 4 Papers by Students on The Aesthetics of Anthropology

April 18 Liking Other People & Ourselves: the First Americans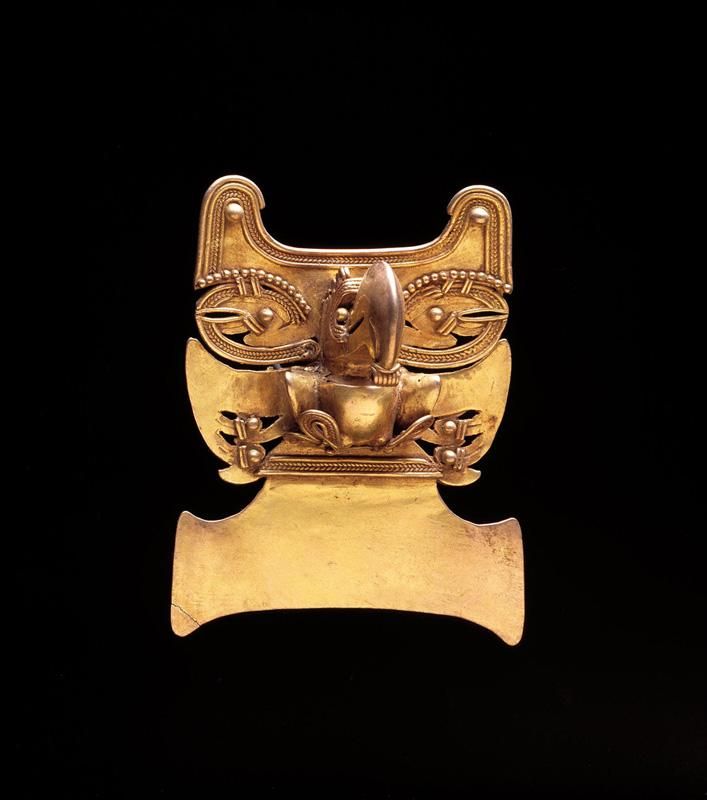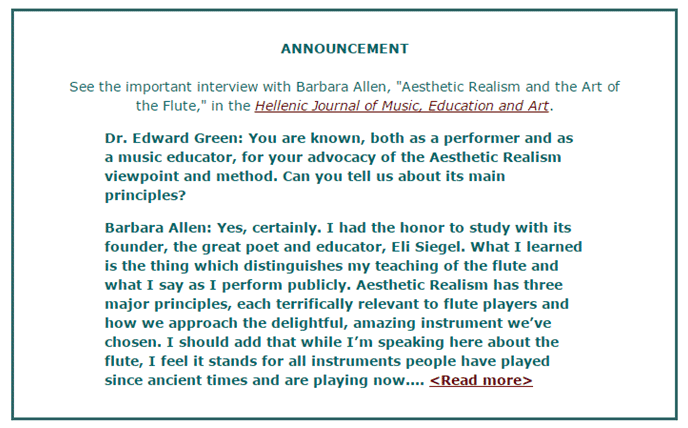 Two Articles Based on the Aesthetic Realism Method

"A New Perspective for American Anthropology"
Published in The Anthropologist (University of Delhi, India). That new perspective is provided by Aesthetic Realism, the philosophy founded by American educator Eli Siegel.

"Consider the native people of 0kapmin, New Guinea....Do they have two opposite attitudes to the world—that it has been kind to them and the gods have been good, and also that it has rooked them?"

Read new explanation of the place of emotion in field work, and how scientifically to understand how we see people different from ourselves. What every student of anthropology experiences in a new culture is related to what goes on in everyday life. Here's an understanding, based on my personal experience (Arnold Perey) and what I learned from Aesthetic Realism, of a common phrase which really hasn't been understood: culture shock. Read More

"Idealism and Practicality: How Can a Man Have Both?"
Paper presented in an Aesthetic Realism seminar (Aesthetic Realism Foundation). In this paper I discuss my own life and that of the great anthropologist Bronislaw Malinowski, using his famed Diary in the Strict Sense of the Word, written in New Guinea 1914-1918. This paper is about the division in every person between being "practical" and "idealistic." I suggest in this paper that Malinowski, who was very courageous in the Diary, wanted to resolve this division in himself and in his tremendous contribution to anthropology, Functionalism. Read more

Gwe, Young Man of New Guinea — a Novel Against Racism

:
From the Novel: Her second was born an hour before dawn, when it was cold, in the Rainy Season. According to custom, the child was nameless for 27 days and was secluded with her in a birth house built in a quiet tree-covered place by her brother and herself.

Those 27 days she held the small being in her arms, taking turns with her sister who was secluded with her. Thus the most vulnerable days for the infant were taken care of, keeping the baby steadily warm in mountain weather, cold even indoors.

Bettiana looked at his soft skin, the color of sunny earth. She felt his fingers grasp at her, and while he sucked milk from her breast she felt, blissfully, "The world is so kind." Then, in the dark, her mind seemed to turn upside down, and she remembered how insultingly her husband had ignored her opinion in the garden. Again, he said the potatoes she was ready to harvest weren't big enough yet! She cradled the infant closer and thought, "But my baby loves me." The babe seemed to reply by paddling its little arms in the air and gurgling. Read more from chapter 1